I introduce to you, Lauren. Lauren is quite the girly girl and very feminine; so when thinking of looks for her, I always try to keep this in mind. However, I must admit I do encourage her to step out of her comfort zone and go for something sexy and edgy every now and then. She normally fights me on it but she trusted me and went with a bold look for her bachelorette party and I think she looked great! It was nice to see her try something different and she owned the look, totally!!! Not only did she trust me with her bachelorette party ensemble but she also chose the wedding dress that I liked best, over the dress she preferred. (Yes, she had a lot of faith in me.) :-) She fought me on her wedding dress too. She felt it was too sexy and it was too unexpected. I felt so bad because I didn't want her to wear a dress that she didn't love. However, I must say her gown was a big hit! She loved the dress and the way she looked in it and she received so many compliments. Anywho, without further adieu, I introduce to you my beautiful friend, Lauren.
This is what Lauren wore as a guest to a wedding. Lauren purchased the above dress but needed help on styling it. My suggestions were to contrast the blue with a pink statement shoe. She decided to keep her accessories pretty basic to allow the dress and shoes to be the focal point.
In this look Lauren was headed to a casual business meeting. Lauren purchased this dress from H&M(I think the color is so fun). I suggested adding a blazer, patterned scarf and gold accessories to keep the look polished but still fun.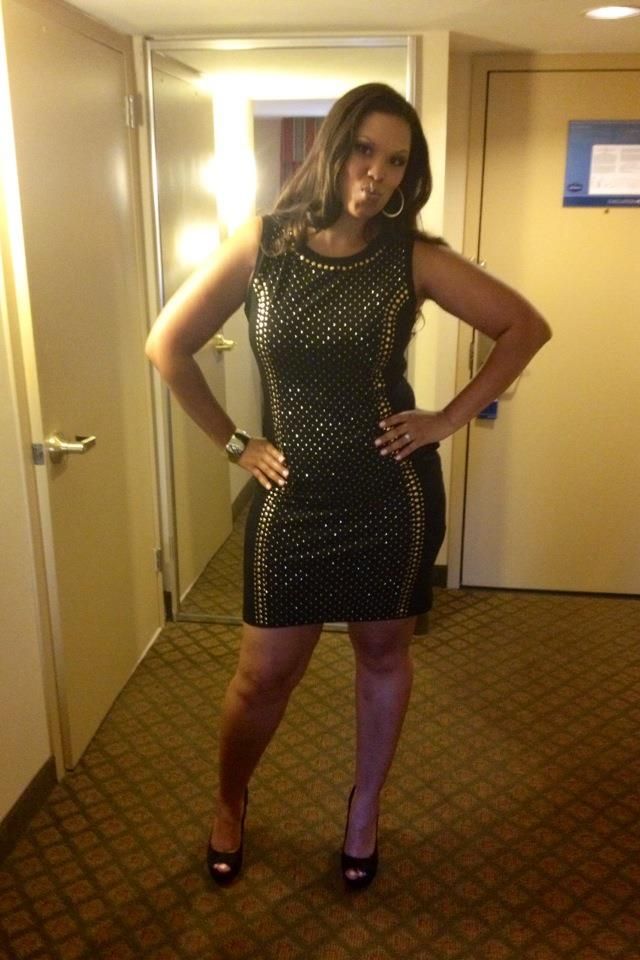 Lauren wore this for her bachelorette party in NYC. Lauren and I went shopping together and I styled this look from head to toe. I suggested that she step out of her comfort zone and go for something sexy and edgy, after all it was her last night as a single woman :-) Studs are so on trend right now, so I thought this dress would be perfect to add some edginess to her look. Lauren has the "coveted" hour glass figure that she loves to hide, so I wanted her to show off her curves in this bodycon dress. We went with a basic peep toe shoe, in which, she can wear again and I kept the accessories sleek and minimal to allow the dress to do all the talking!
Lauren on her wedding day. I went with Lauren to various dress shops looking for "the one". It is important to listen and understand what she wanted but I still like to push the envelope a little as well. Lauren initially was only considering, big, princess, voluminous gowns. She found a couple that were very nice but none of them really screamed at me. However, when she so ever stepped outside of her comfort zone and tried the above dress on, I knew it was the one. Not only that, she didn't react to any of the other dresses the way she did when she tried this one on. She has the perfect curves for this dress and it has just the right amount of bling/embellishment where it's still tasteful. She accessorized the dress to her liking and I think she was a GORGEOUS bride.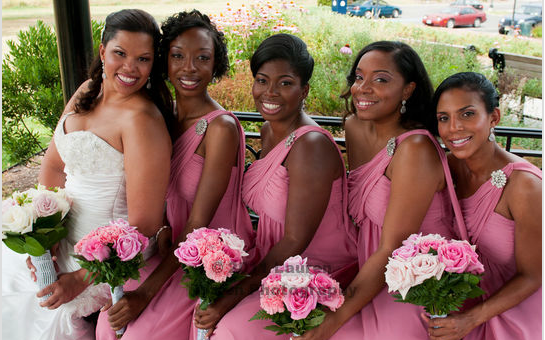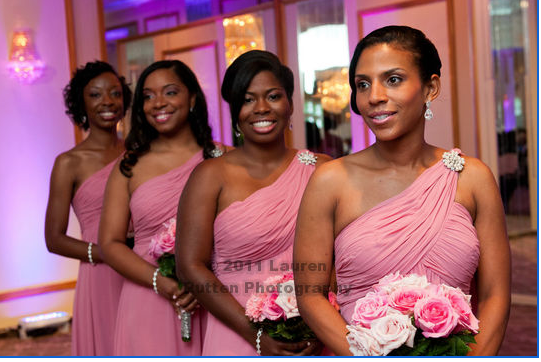 Lauren picked the above bridesmaid dresses because she wanted everyone to feel comfortable and not worry about sucking in here and tucking there. The gowns are lovely but needed a little something to make them pop. So, I suggested adding a bling brooch, a bling bracelet, and bling drop earrings. I think those accessories were the perfect touch.
So, there you have it my first segment of "Styled By Me"! Let me know your thoughts :-) I would love to hear your feedback :-) XOXO